Carbon Friendly Brews
By Max Murai
As the warmer weather starts to move in and dining establishments allow patrons to be seated indoors, it's hard to not want to be out and about.
Spokane boasts many breweries that have an atmosphere to make a beer paired with a sunny day even better. Spokane's size and plethora of breweries makes a carbon friendly brewery visit very doable.
Carbon is most commonly offset by planting trees and purchasing other carbon offsets. As patrons, we may not be able to offset emissions released in the brewing process, but we can make sure we don't release any more. Walking/Biking to the brewery is the answer to our problems. By not driving, unnecessary emissions are prevented. In Spokane, roughly 30-40% of emissions are caused by transportation. One commonly unaccounted for greenhouse gas culprit is the transportation of a good to where it is sold. Luckily for us, many local breweries make their beer on site - requiring zero transportation to get the beer into a frosty glass, making your brewery walk (by my calculations) a nearly carbon neutral activity. If you want to go all out, plant a few trees before you set out!
While writing this I have thought of some additional benefits of a brewery walk:
Fun for the Whole Family: Unlike the traditional bar where anyone under 21 is not allowed, breweries are open to all ages. This way, everyone can partake in the one thing better than a beer - quality time.
Exercise: Nothing works off the post-beer bloat like a walk.
Support Local Businesses: Grabbing a beer with family and friends is an enjoyable way to support businesses in our community. More good news - there are a lot of them to try!
Whether you want to go one and done or make a day out of it, here are some of my top spots: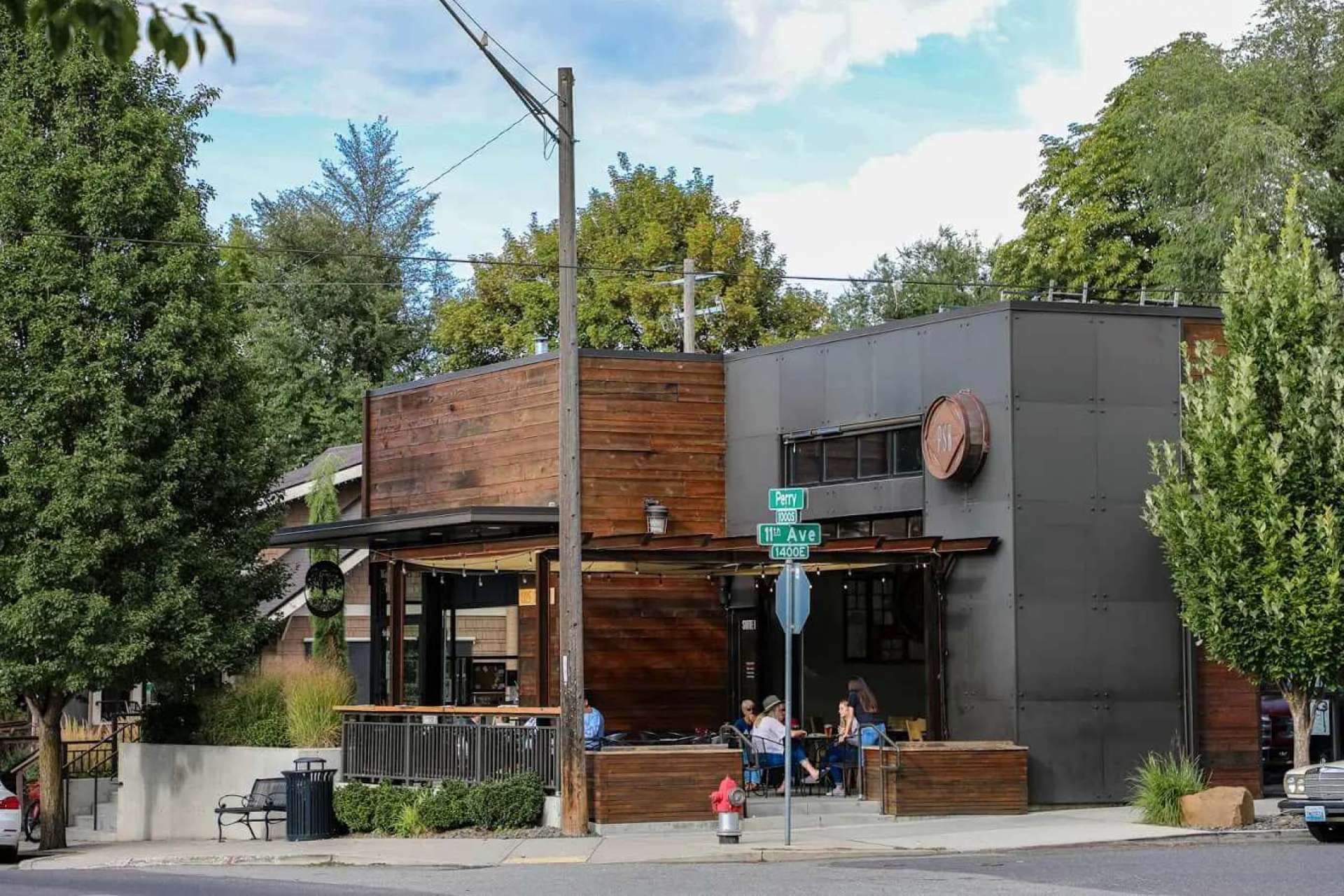 This is a popular spot among people in the South Perry neighborhood and you'll see why! They have a great list of beers on tap and a menu that has exactly what you want (and nothing that you don't). A very fun, open space that lends itself to a good time no matter the occasion.
Don't be afraid to stop by The Grain Shed to grab some growlers to-go on the way home, it's just down the street.
Photo from Brickwest Brewing
This downtown gem is the perfect spot to relax and enjoy the warm weather! The modern space paired with a lively outdoor beer garden is a hit for all ages. Brickwest is relatively new to the Spokane brewing landscape, but a passionate team helps spread the mantra "building a community one beer at a time."
Photo from For the Love of God Brewing
This brewery is one that is new to me. Since discovering For the Love of God Brewing (FTLOG), I have been trying to make up for all the lost time. FTLOG Brewing prides themselves on progressing not in quantity but in QUALITY. You can taste the attention to detail. If they keep up the quality they are going to be forced to up the quantity, I'm serious it is that good!
Photo from No-Li Brewhouse
Probably no surprise to anyone, No-Li Brewing is on this list. Nestled a stone's throw away from the Centennial trail, it is in a prime location for walking. No-Li shows us time and time again their commitment to our community, which has helped make them a pillar in the Inland Northwest. Family-owned and operated they say "From our brewhouse to your house, everyone is invited."
P.S. Get the Epic Pretzel, you'll be happy you did.
Earlier I mentioned planting a tree before you set out to help offset the carbon emissions from your beer. I understand that this is easier said than done. Creatively United Community gives creative solutions to common tree planting problems, especially for those who do not own land.
It seems everywhere we look these days we are faced with a conflict or pressing social issue. It has made community members wary of one another, assuming conflict rather than wanting a connection. Within the current safety protocols in place, I believe getting back out and connecting with the community is what we need. Even if we are not interacting with other people, connecting with establishments in our communities will help. So grab your favorite face covering, make a walking plan, and enjoy a beer at your local brewery! That's not too much to ask, right?