Evolving your business practices to focus on sustainability is about building a better business. We prefer the B Corp model for defining sustainability practices because it provides a more complete, holistic perspective of your business impacts and performance. The framework helps ensure that your practices and processes are integrated and working to create the culture needed to maximize your impact and performance.

The B Corp framework focuses on five dimensions:
Governance – Practices and procedures that create transparency so customers know what they are buying, employees know what you expect of them, and what employees can expect from you and your company
Workers– The way you support your employees and look out for their well-being
Community– How your business is connected to the communities where you do business and what impacts your business has on those communities
Environment– The environmental impacts of producing your product and operating your business, and the way you manage and mitigate those impacts
Customers– The manner in which you support your customers, ensure they know what they are buying, and resolve problems when they arise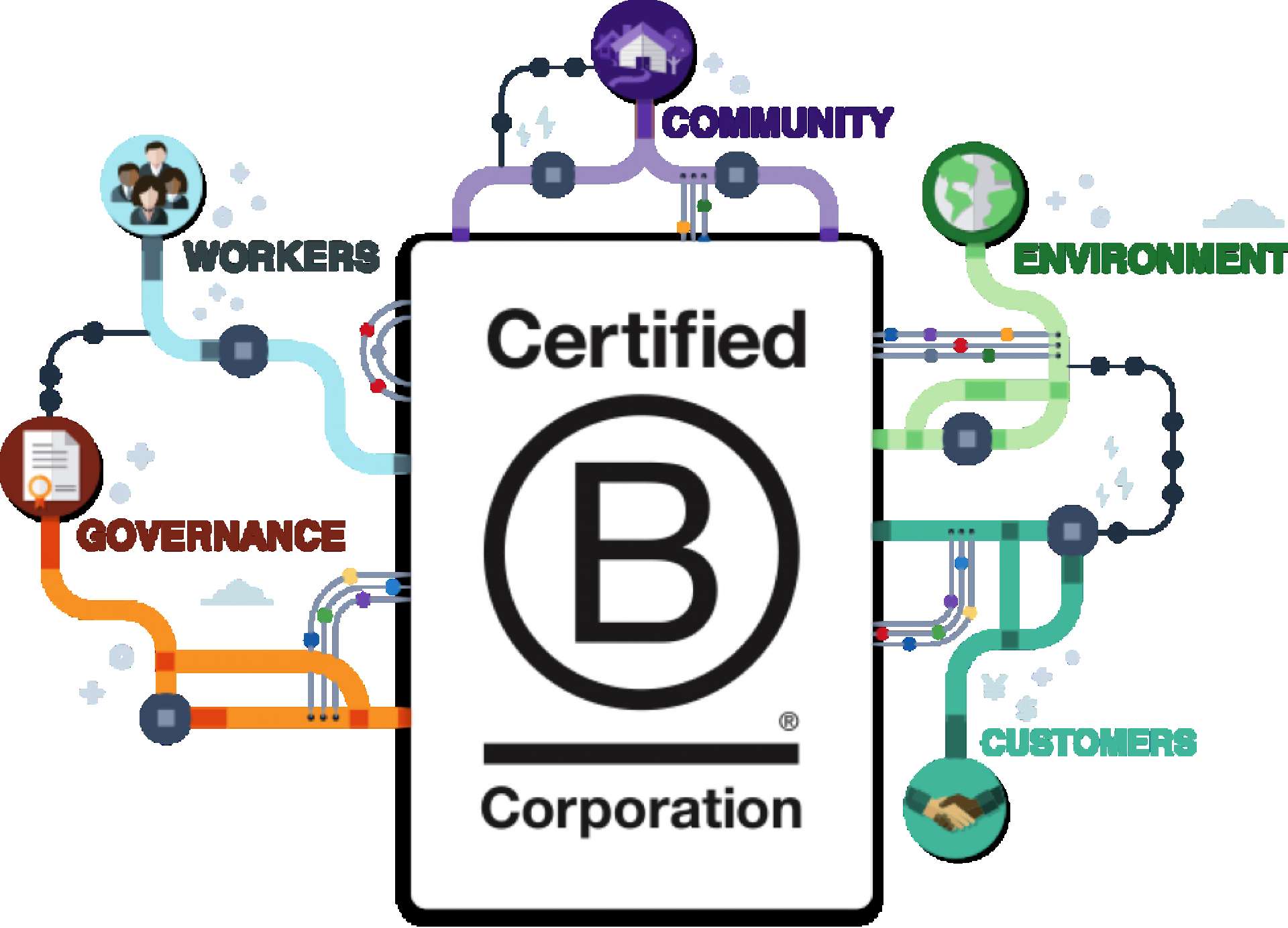 The fundamentals of these five dimensions are intuitive and reflect best practices for all businesses. Focusing on sustainability requires changes across those five dimensions, and those changes will serve to strengthen your business by improving employee engagement, enhancing your reputation in the community, and strengthening the value of your brand. As we noted two weeks ago, sustainable-focused companies are generating higher returns and are better positioned to customers.1 Additionally, employees are increasingly considering a company's sustainability focus when making job decisions, particularly millennials who will comprise over half of the US workforce by 2020.2
Changing your business practices will have a clear and measurable impact. And businesses that certify as B Corps become part of a larger community of businesses dedicated to building a more sustainable economy. Joining the B Ecosystem creates opportunities to learn and become more effective in your own practices. Certifying as a B Corp also allows businesses to clearly signal their values to their customers – the B Corp logo removes the guesswork for consumers about whether they are supporting companies that align with their own values.
Over the next five weeks, we will look at each area of the B Impact Assessment individually to provide more insight into how you can build a better business.
Overwhelmed? No worries, we've got this! For the Good.