Sustainable companies generate more revenue and are more profitable
By Mark Odegard
Most consumers expect companies to play a role in addressing climate change and sitting on the sidelines may not be a wise business strategy. In other words, doing nothing could have a direct and negative impact on a company's bottom line and at best limits growth.
Creating a culture of sustainability and messaging that culture to consumers has a positive financial benefit. In a 2015 sustainability study, Nielsen noted that "sales of consumer goods from brands with a demonstrated commitment to sustainability have grown more than 4% globally, while those without grew less than 1%" during the prior year."
Unilever, a multi-national firm with over 400 brands, validates the growth noted in the Nielsen study. Their portfolio includes 28 Sustainable Living Brands , of which 4 are Certified B Corps. In 2019, according to their November 2019 press release, their Sustainable Living Brands grew 69 percent faster than their other brands and represented 75 percent of total company growth. Just 7 percent of their brands accounted for 75 percent of growth. The force behind the results is so self-evident, Unilever is pushing all brands to have a defined purpose.
We believe the evidence is clear and compelling that brands with purpose grow. Purpose creates relevance for a brand, it drives talkability, builds penetration and reduces price elasticity. In fact, we believe this so strongly that we are prepared to commit that in the future, every Unilever brand will be a brand with purpose.
Alan Jope - CEO of Unilever
Patagonia, perhaps one of the best- known Certified B Corporations, has taken an aggressive approach to their environmental commitments. Their mission statement notes they "are in business to save the planet". Recent marketing campaigns have encouraged consumers to not buy their products. Some contend that this is disingenuous because the very notion of advertising is for outreach to customers to promote your brand and sell more product.
However, to back up their recommendation to not buy their products and their commitment to the environment, Patagonia has two programs aimed at extending the useable life of their products. First, customers can send in their gear to be patched and repaired, a service that is generally free (with the exception of shipping). Second, Worn Wear is an online store that allows consumers to buy and sell used Patagonia clothing.
Patagonia has been rewarded for those efforts. They have a core customer group that are dedicated to the brand. While Patagonia keeps their financial performance close to the vest, as of 2019 Time magazine noted that "sales quadrupled over the past decade and recently surpassed $1 billion". Having a purpose pays.
The Virtuous Cycle
Revenue is directly related to consumer spending. As consumers reduce, increase, or otherwise alter their spending behaviors, revenue is impacted correspondingly. Further, consumer spending behavior is directly correlated to the amount of disposable income available to an individual or household.
A person could easily make a case that governments and the business world do not effectively understand those correlations. Consider current public policy decisions by federal and state governments favoring reductions on taxes and social programs that directly address poverty, corporate proclivity for lay-offs and emphasis on profit maximization, and the ever-expanding wealth gap – all of these have direct, material impacts on household finance and disposable income, which in turn have direct, material impacts on corporate revenue.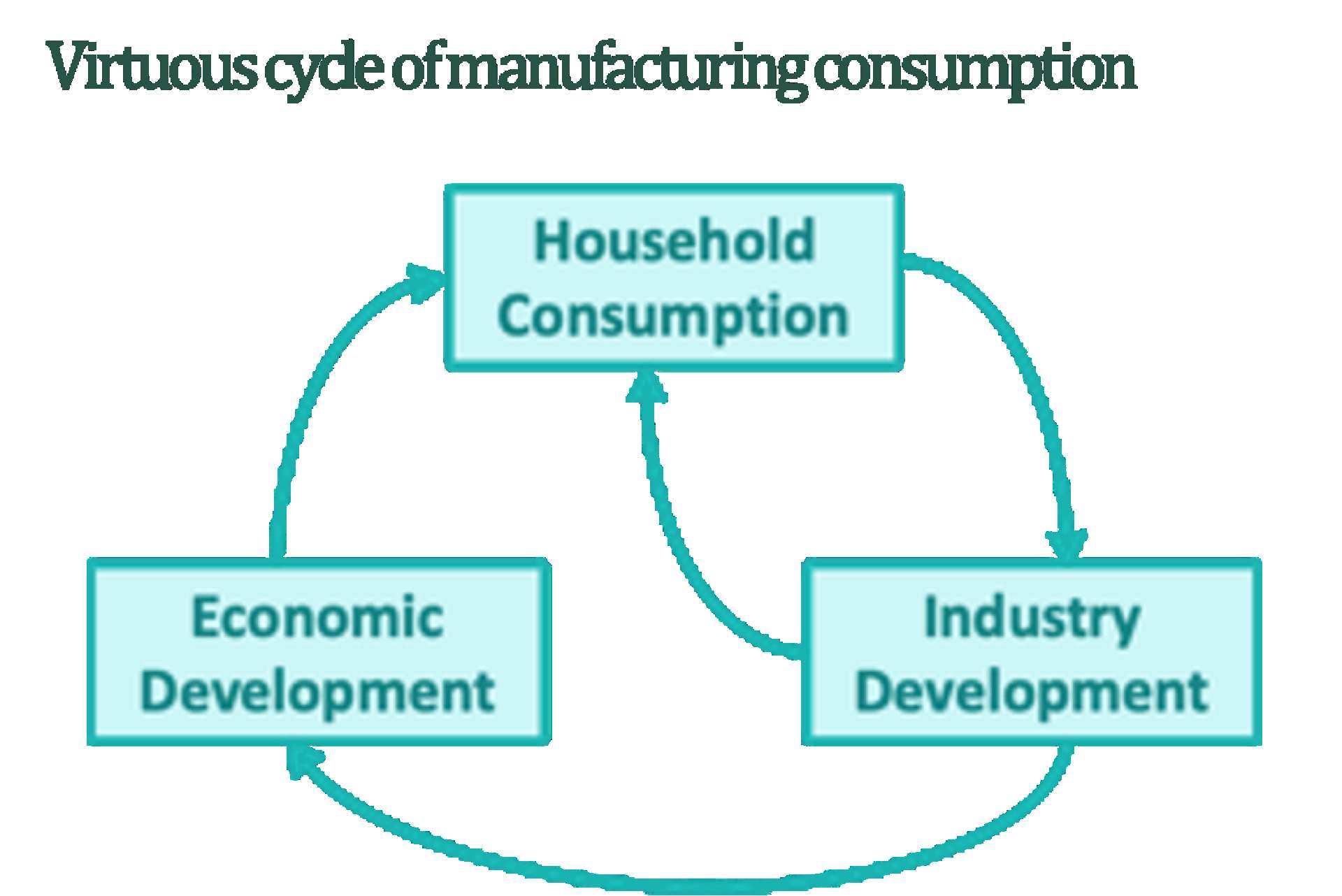 A longer-term view that prioritizes steady economic growth contributes positively to corporate longevity because it creates long-tailed revenue streams. Creating financially resilient and regenerative communities, lifting people from poverty into the middle class, expanding the middle class and enabling people to reduce consumer debt all generate more disposable income that can be spent on consumer goods. Which again has a beneficial impact on revenue.
A 2018 working paper from the United Nations Industrial Development Organization describes the financial impacts of the virtuous cycle of manufacturing consumption. The economy, household consumption, and industrial development are inextricably intertwined. As one grows the other grows, thereby creating a virtuous cycle. But this only happens when the benefits of that economic development are sufficiently distributed to support broader wealth creation – and thereby increased consumer spending power – amongst all people.
This is not a political argument; it is a very plain and obvious economic fact. Purpose-driven companies – for instance, the shoe company TOMS – understand that empowering local communities has broader economic benefits that ultimately have positive impacts on their bottom line. Perhaps if there is any single reason to integrate purpose into a company's values and decision-making processes, this would be it.
The benefits of brand to customer loyalty
Companies take great strides to maintain their brand image because that brand image has a significant role in consumer spending decisions. Brand recognition is key and there are myriad examples of how that impacts sales.
Increasingly, basic brand recognition is not enough. Consumers have higher expectations for the role that companies play. For instance, 95 percent of US consumers want large corporations to promote an economy that serves all people. (Further support for the points made on the prior page.) However, just 45 percent of Americans believe corporations are following through, that they are walking the talk in promoting this type of regenerative economy.

These numbers represent a challenge to all companies – leading with purpose is becoming table stakes and companies that don't adjust may be left behind. For many companies, rising to this challenge will require significant cultural change and expense. But for those companies already managing with purpose or at least starting to head down that path, this poses a clear market opportunity to differentiate their brand and appeal to a broad swath of US and global consumers who view sustainability as important.
The effort is worth the time and investment because it translates directly into real benefits. First, a study by Impact ROI, a sustainability consulting group, suggests that 7 to 11 percent of a company's value comes from its corporate responsibility brand and reputation. No doubt this is a sizeable amount. Further, the Yale Center for Business and the Environment indicates that consumers are 2.5 times more loyal to companies that integrate their values into their operations and supply chains. Given the cost and effort required to attract new customers, a higher degree of customer retention is no small thing.